Learn to Run Through Your Mental Barriers
Getting in shape, exercising, and losing weight are some of the most common goals that people have, and yet they seem to be incredibly difficult to achieve. Even something as simple as starting a running program can seem daunting if you feel too tired, too busy, or too old to try to exercise. Author Clint Lovell is here to challenge these feelings of self-doubt and anxiety by providing actionable tips and sharing inspirational true stories from all kinds of runners.
Whether you've been thinking about running for fitness, general well-being, or weight loss, Lovell's book will help you break through your mental barriers and stick with a consistent program.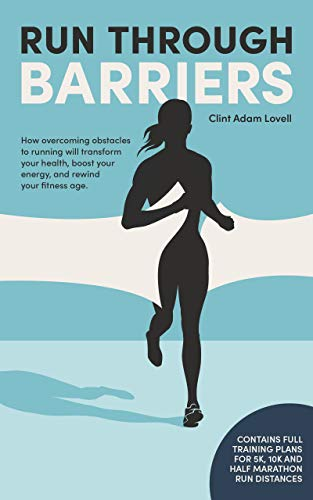 This book is divided into 2 main sections: training your mind, and training your body. The first 6 chapters are about addressing barriers in your own life, learning how to be honest about your situation, and strategies for improving your confidence and willpower. You will learn about amazing people who defied the odds and transformed their lives, including:
Eileen Noble, a British marathoner who didn't start running until the age of 50.
Roger Wright, a man who successfully battled obesity and completed over 66 marathons in the span of 11 years.
Ais North, a woman in her 70s who's training for an ultramarathon event despite suffering from a heart attack and a bout with cancer.
Delores Durko, a busy mother who shares her fitness advice for people with full schedules and multiple responsibilities to juggle on a daily basis.
Marlene Lowe, a woman who found relief from her CFS (chronic fatigue syndrome) through her running and fitness regimen.
Through these stories, and many other inspiring accounts, you'll feel comforted and inspired as you realize that you can overcome your own obstacles and start running.
In the last 4 chapters, Lovell will share motivating tips to help you kick-start your running regimen, along with a variety of running plans suitable for all skill levels. You'll have access to complete week-by-week programs that will have you running 5Ks, 10Ks, and half-marathons before you know it!