Detective Griffin Knight takes on NYC's toughest murder cases
Miguel Angel Hernandez Jr.'s Griffin Knight series is an action-packed book series that follows the adventures of Detective Griffin Knight as he takes on dangerous cases.
The Nocturnal Devil is the third book in the series, and it will keep you on the edge of your seat from beginning to end. Set in New York, the story follows Detective Griffin Knight, a tough-as-nails cop who has seen it all. Like most detectives, Knight is a flawed character, haunted by past mistakes and inner demons.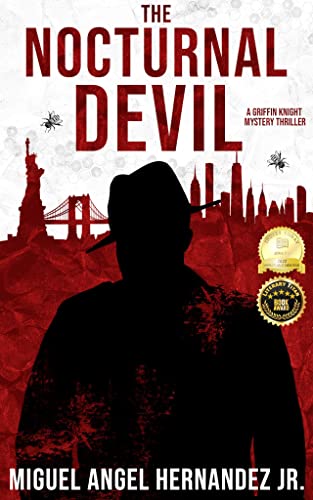 The book follows Knight as he investigates a series of murders of local women. As he reaches dead ends, Knight enlists the help of hacker to track down the suspect. The tension builds with harrowing life and death stakes and deadly confrontation that Knight takes the bait for.
The narrative explores the perspectives of both the victims and the killer, building tension through hints and glimpses of the killer's mindset and actions. The story also touches on the mental health toll of the investigation, with Knight recovering from a previous case in which his partner was killed. For this trauma Knight finds support and a little more from his new girlfriend, NYPD physician, Samira.
Hernandez Jr.'s writing is fast-paced and suspenseful, with plenty of twists and turns to keep readers guessing. The characters are well-developed and realistic, and the action scenes are intense and graphic.
The Nocturnal Devil is a recommended read for people who enjoy books by Douglas Preston, Lincoln Child, and James Rollins. Hernandez Jr.'s storytelling is top-notch, and the blend of suspense and police procedural make for a unique and exciting experience.